The story began when Johann Figlmüller opened the first wine tavern on Wollzeile in 1905.
Just around the corner from St. Stephen's Cathedral, he established a place where people have been imbibing, chatting and eating great for the past 115 years. A glass of our homegrown wine is the perfect accompaniment to our interpretation of the Wiener schnitzel, which has not only become the house special—but also a symbol of the city of Vienna.
HOME OF THE SCHNITZEL:
FIGLMÜLLER WOLLZEILE
At the heart of every house is a home.
Ours lies on Wollzeile Street.
Here you'll find the world-famous Figlmüller restaurant, where celebs, locals and tourists alike come to enjoy a good meal. Where they're from may set them apart. Why they come unites them. To savour the world's most-famous schnitzel and to enjoy a glass of our home-grown wine in a homely setting. And that's just what our grandfather always wanted.
Figlmüller Wollzeile: Wollzeile 5, 1010 Vienna
Open daily 11am – 10:30pm, kitchen daily 11am – 9:30pm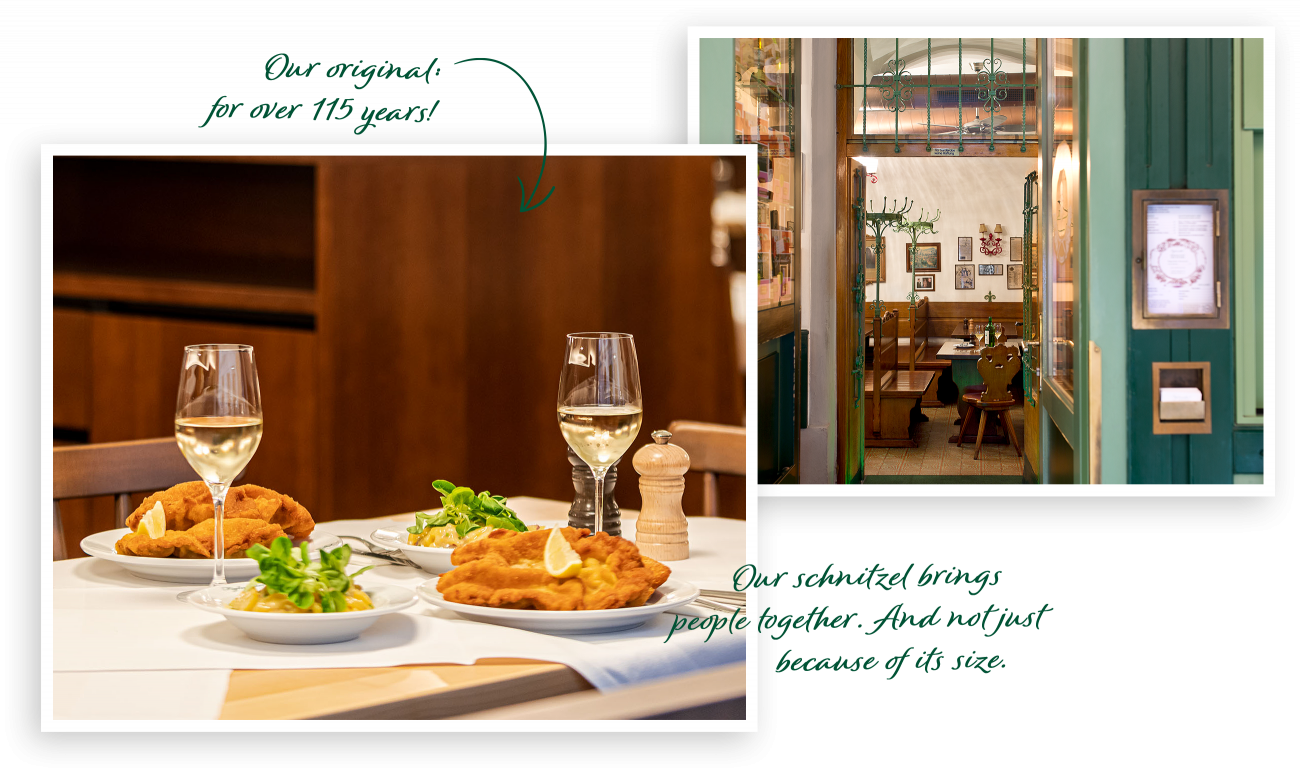 TOO GOOD,
FOR JUST A SINGLE FIGLMÜLLER:
FIGLMÜLLER BÄCKERSTRASSE
On Bäckerstraße, we've made room for even more Viennese delicacies.
A genuine Figlmüller schnitzel needs a healthy amount of space. When space started running out, we opened up a second restaurant right around the corner, where we're serving up schnitzel and a host of other mainstays in Viennese cuisine. From succulent roast beef and grilled onions to home-made shredded kaiserschmarren pancakes. And thanks to a plethora of specials on tap, beer aficionados will feel right at home, too.
Figlmüller Bäckerstraße: Bäckerstraße 6, 1010 Vienna
Open daily 11:30am – 12pm, kitchen daily 11:30am – 10:00pm
FIGLMÜLLER BÄCKERSTRASSE & MENU
RESERVATIONS +43 1 512 17 60