Recipe 4:
Apple strudel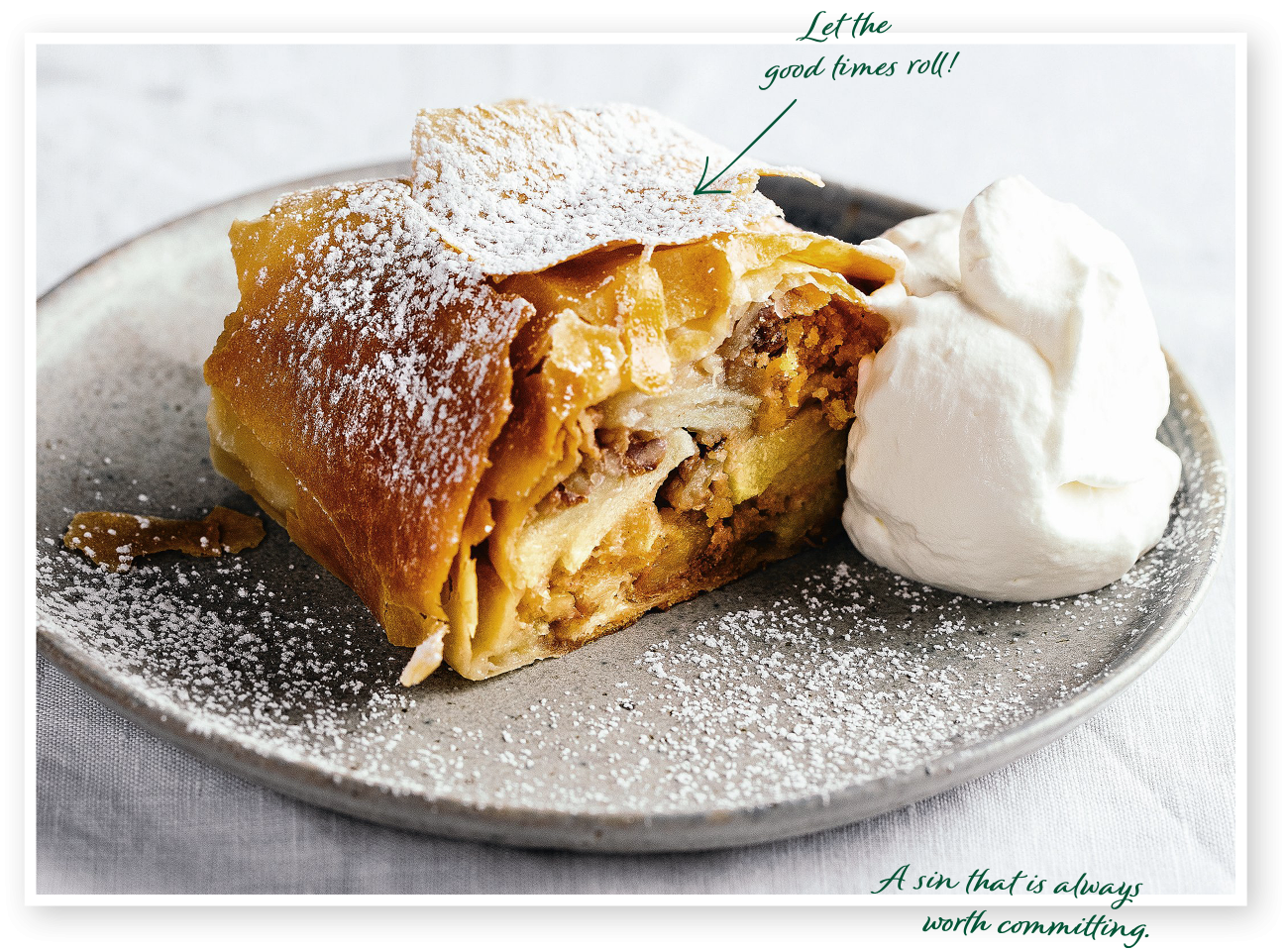 Ingredients for 4 – 6
1.5kg tart apples
2 sheets of strudel dough
160g granulated sugar
50g chopped walnuts
60g raisins
80g breadcrumbs
150g butter
1 tablespoon vanilla sugar
1 tablespoon ground cinnamon
1 tablespoon rum
1 lemon
Powdered sugar for dusting
Even the Viennese have their sweet side.
No visit to a Viennese coffee house would be complete without a Melange and piece of warm apple strudel. The original from Vienna captivates with its juicy apple filling and the paper-thin strudel crust. Our grandmother made it for decades based on one single recipe: her sense for the ingredients. For those cooks less initiated, we've written out a step-by-step recipe that would make granny proud. Happy baking.
Here's how it's done:
Preheat the oven to 200°C. Peel, core and quarter apples and cut them into 4mm slices. Melt the butter and set aside half the melted butter for brushing. Brown the breadcrumbs in the butter and set aside 3 tablespoons. Combine apples, sugar, cinnamon, rum, lemon juice, raisins, breadcrumbs, walnuts and vanilla sugar. Place a sheet of strudel dough on a moist dishtowel and brush the strudel dough with melted butter. Sprinkle with pan-toasted breadcrumbs and place the second sheet of strudel dough on top. Brush with butter and spread the filling on top. Roll up the strudel using the dishtowel, pinch the ends and fold under. Brush the strudel with melted butter and bake in an oven preheated to 200°C for 30 minutes. Dust with powdered sugar and serve in slices.
Cooking by pictures.
Step by step:
apple strudel